We get a lot of questions from concrete contractors and concrete pumpers about the benefits and advantages of The Porta-Pit. Here are some of the most Frequently Asked Questions about it… and the answers to them.
What if I put a hole in it because it's plastic?
This rarely occurs. However, if something happens, we can patch it. That's the good news. One way we attempt to prevent this by having the metal plates underneath for the forks to slide into. If someone made a mistake and missed, it's not going to be ruined because someone put a hole in it.
What makes the Porta-Pit last so long?
What we've done is place metal on top and bottom. That way the plastic isn't rubbing up against the ground grating and the metal takes that abuse. Then, the plastic itself allows the concrete to just pop-out. We have the best of both worlds.
How do I flip it over?
We've designed the Porta-Pit to be easy – a one man operation. You're going to want to make sure that you have the area clear and then you simply put the forklift underneath and turn it over. As you do, the rungs on the bottom allow you to control the speed in which it falls. Then, you just turn it upside down and the contents fall right out. Then, you turn it back over with your forklift and get it ready for the next load.
What kind of plastic are you using? Doesn't it crack or break or become brittle?
Quite frankly, we've used the best plastic we can come up with called Cross-link Plastic. It's very soft and pliable, so it doesn't crack, break or become brittle. It's got the UV inside of it. It's actually five-times stronger than the industrial ethyl propylene that everybody's already using in the rotomolding. This is just five-times stronger. We expect great results.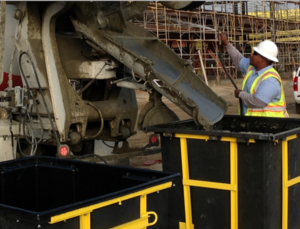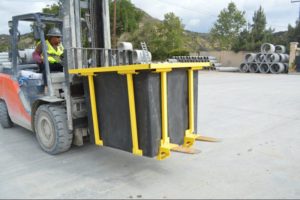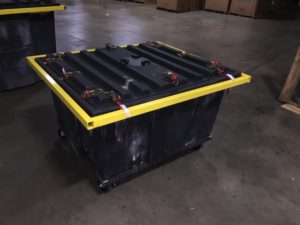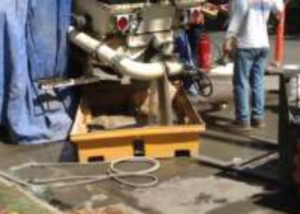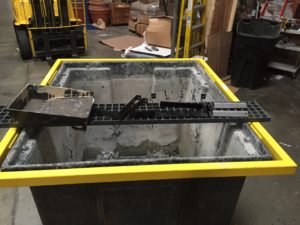 What about the lid? Should I get a lid? Do I need a lid?
The lid was designed with a lot of things in mind. First, of all it seals, so you can travel around confidently that you're not going to spill any water once you strap it down. There's also a hole on top to allow you to pump hoses and such inside. And, the Halo allows you to tie things down to the pit itself so that if you were pumping, a hose wouldn't have to be held by an employee. The other thing about the lid is that we can create a vacuum head on the top of it and you can suck the water in, from wherever you would like easily with a shop vac. But, the water would never go through the shop vac. It would all end up in the Porta-Pit. So, the lid is a great thing to own when you by the Porta-Pit. It also keeps animals and children out of the water when it's not in use. You put the Porta-Pit lid on top, secure it, and then feel confident that nobody is going to get inside without quite a bit of effort.
How wide are the forks?
We use a 7-inch wide fork on the bottom right now and we have our turning rungs on the bottom to keep the plastic up above that. We found that the 7-inch wide fork has been big enough for big forklifts.
What about the rungs? Can I crane it from overhead?
Not at this time. You will have to order a special rung for that. We put a rung on it to strap it down. It's got 18-thousand pounds of breaking strength, but it's not OSHA approved to go overhead
Does it fit in the back of a truck?
Yes. The Bull-Pits will fit in the back of a truck or a van. That's one of the things we designed it specifically for. We also designed it for someone who might have a pick-up service who could put a number of these on the back of a truck as they drive from jobsite to jobsite.
What about a trailer? Do you sell one?
Yes, we created a trailer that can take from job to job. We think our Little-Dog Pit would be good for that. It's a nice little setup.
What about chemicals you use to handle washout water?
We have two processes right now. One is SlurrySep. This product separates all the products to the bottom so that we have clear water to work with. From that clear water, if we need to lower the PH, we have a Porta-Pit water clarifier, which is a CO2 machine that can also put the SlurrySep in and use that whole process. What if we have just a little bit of water and a lot of materials? The second option is SlurryDry, which may be a good solution for that. SlurryDry just turns into a dry material that you can dump on the jobsite. A number of our clients are very interested in just how to handle the water on a jobsite and we have those solutions. If this interests you, we should talk to you personally about your unique situation (i.e. your area, the permits you have, and what they demand, etc.)

If you have specific questions about The Porta-Pit for your unique situations, please call (626) 893-8170