Washout Watchdog is a two-part gravity-fed chute washout system.
It consists of a bucket into which the chute is washed down, and a storage tank to transport the water and materials. A driver connects a hose between the two to empty the bucket into the storage tank. Storage tanks come in a variety of shapes, and may be mounted in various locations.
Standard Tank Mounted Sideways
A special bracket holds the standard tank sideways, requiring only 11″ of frame rail for the bracket and 18″ for the tank. The bucket (right) is held by a bracket welded to a tube that slides over the DOT bar. It's inside the DOT bar, allowing full use of the booster axle. Here's a better view of the DOT bar bucket mount.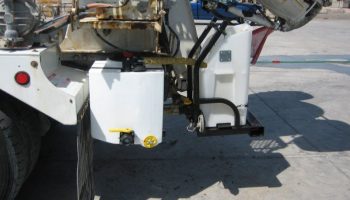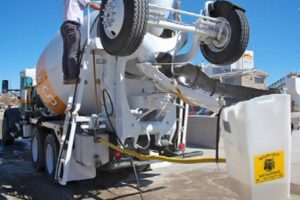 Standard Tank
Measuring 18″ wide by 24″ long by 20″ high, the Standard Tank is our most popular. It is usually mounted at the rear of the truck, often under the ladder, with the bucket storage rack mounted at the front of the fender.
Long Tank
One of our most versatile tanks, the Long Tank was originally designed to mount in the area under the chute, but has proven versatile enough to mount in other locations.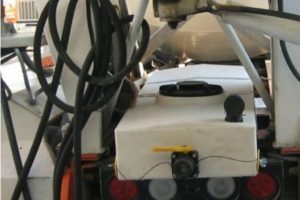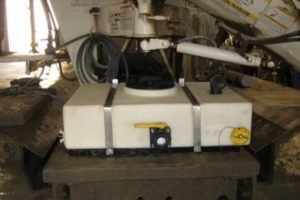 Platform Tank
The platform tank is designed for mixer trucks that have a platform underneath the chute. It can also be fender mounted. This low-profile tank is easy for the driver to maintain and has two cleanout plugs so it may be mounted in two different orientations.
Fender Tank
Our newest tank design, the updated Fender Tank, attaches via the holes that hold on the mudflap, is secured by two straps, and has molded-in nut inserts to which you can attach the light and license plate.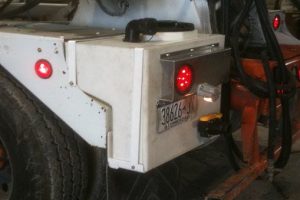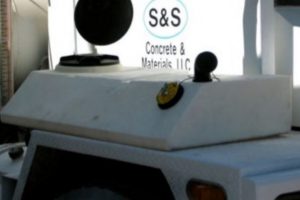 Front Discharge Tank
The Front Discharge Tank mounts on the passenger side fender, and has six inserts on the top of the tank to mount the drum control handle, should the mixer be so equipped.
Underdog Tank
The Underdog Tank is long and skinny, measuring 7.5 x 9.5 inches and seven or eight feet in length. It was originally designed for a truck that had only eight inches between the mudflap and the DOT bar.