The Porta-Pit is a new, superior concrete washout container that was designed specifically for easy use, portability and "no spill" security. The main body is constructed of industrial strength, cross linked polyethylene plastic that is ideal for containment of all washout water and materials. With the Porta-Pit, the washout materials can then be handled on the jobsite (with the proper procedures) or can be securely transported from the job site to a different location for easier processing.
Washout Watchdog® for The Job Site: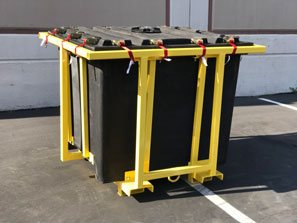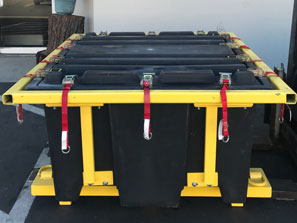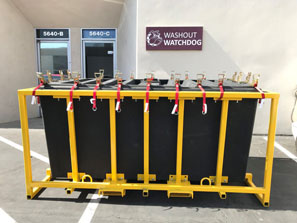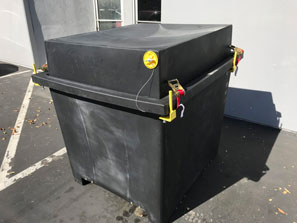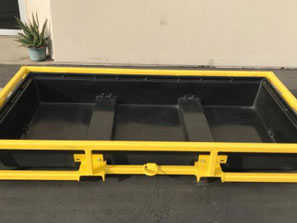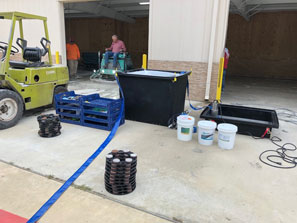 It features a baffled lid that is designed to seal the contents in the container with our silicon seal and ratcheted lid locking system. This locking lid system traps all water inside the bin and prevents it from escaping during transport. We also have custom made trailers available for our bins. The Porta-Pit does not require special oils or releasing agents to coat the interior prior to usage. Due to the fact that concrete does not adhere to the cross linked plastic, it will not rust, corrode or dent (unlike steel). It is constructed from an industrial strength, heavy duty, rotomolded plastic that makes the Porta-Pit incredibly durable yet light weight for easy handling (i.e., moving around the jobsite) and emptying of contents. It is also far more cost effective to manufacture and ship. One of its greatest advantages is that it does not require the water to be drained prior to transport (due to our specially designed lockdown lid). If the contractor decides not to process and remove the water on the jobsite, it allows anyone with a truck or trailer to transport it to another location that is more convenient to process and recycle the contents.
NOTHING OVERLOOKED
Features and Benefits
Porta-Pit is made of a revolutionary cross linked polyethylene (five times stronger than ordinary polypropylene plastic) and heavy duty steel runners and supports.
A uniquely designed lid prevents water from escaping during transport.
Porta-Pit weighs approx. 350 pounds empty and can be moved by hand.
Concrete does not adhere to the plastic used in Porta-Pit. Compared to larger portable concrete pits currently in use, Porta-Pit is easier to move and transport, more versatile (different sizes for different uses) and less expensive. Most steel containers are larger and require the water to be pumped out before they can be moved, and require releasing agents or coatings. The Porta-Pit may be moved with a forklift or truck without draining. Due to their affordability, several can be placed around the job site for convenience.
The 1.75-yard Porta-Pit is about the size of a pallet at 44 x 42 inches, and is 40 inches tall. The Boom Pump Bin is designed to slide under pumps and pump trucks and is only 12 inches high. The Boom Box, is designed for boom pumps and small rock pumps to capture and contain spills.
Porta-Pits may be stacked for easy storage.
For use when priming or washing out pumps, Porta-Pit has a removable 10 inch lid to allow the hose inside the closed bin to prevent the contents from escaping or splattering.
It comes in 4 different configurations.